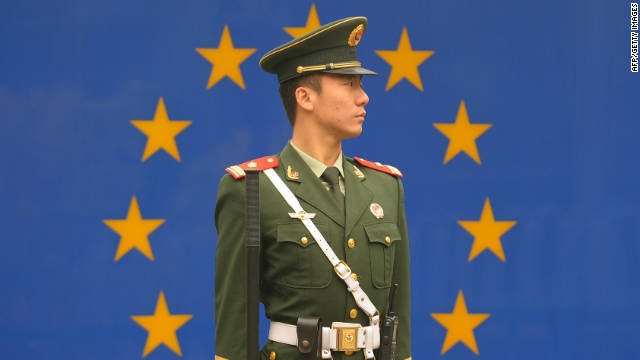 (CNN) -- A China-EU summit ended Tuesday with promises for more support from Beijing for debt-straddled Europe, yet no concrete cash pledges to buy euro debt.
It's becoming a familiar scenario in the wake of the eurozone crisis. Indebted nations have made repeated entreaties to Chinese leaders for bail out help in the form of buying government debt bonds or direct investment. And, indeed, Beijing has pledged to help, and Chinese investment in European companies has skyrocketed.
Still, Beijing bristles at accepting the "white knight" role European leaders clearly hope China will play.
In a joint press conference with European Commission President Jose Manuel Barroso and European Council President Herman Van Rompuy, Chinese Premier Wen Jiabao said, "China is firm in supporting the EU side in dealing with the debt problems. We match our words with actions."
However, Wen added that it was up to debt-stricken nations -- such as Greece, which approved tough budget cuts ordered by the EU amid escalating violence in Athens -- and the EU to reduce its debt risks, echoing previous statements from China during the crisis. "The debt crisis relies fundamentally on the efforts made by the EU itself," Wen said.
Read More