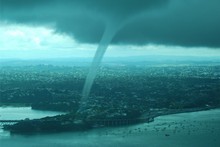 Auckland's bleak summer produced another turn yesterday - a swarm of twisting waterspouts around Waitemata Harbour.
Christine Keller Smith glanced up from a book she was reading in her Northcote living room and saw a dark, spiralling, "menacing" cloud form next to the Sky Tower about 3.45pm.
"It was just so extraordinary - it was a spectacular sight and was really quite scary," she said.
The waterspout moved along the harbour past the central business district before growing weaker and drifting into thick cloud over the city.
Mother Nature's show sparked a flurry of activity on social media sites such as Twitter.
WeatherWatch head analyst Philip Duncan estimated the waterspout was at least half a kilometre tall and 50m wide, with wind speeds up to 120 km/h.
He said the unstable conditions, perfect for creating the spinning winds, were similar to those which caused a tornado that tore through the North Shore last May, killing a construction worker at Albany.
Read More